Agra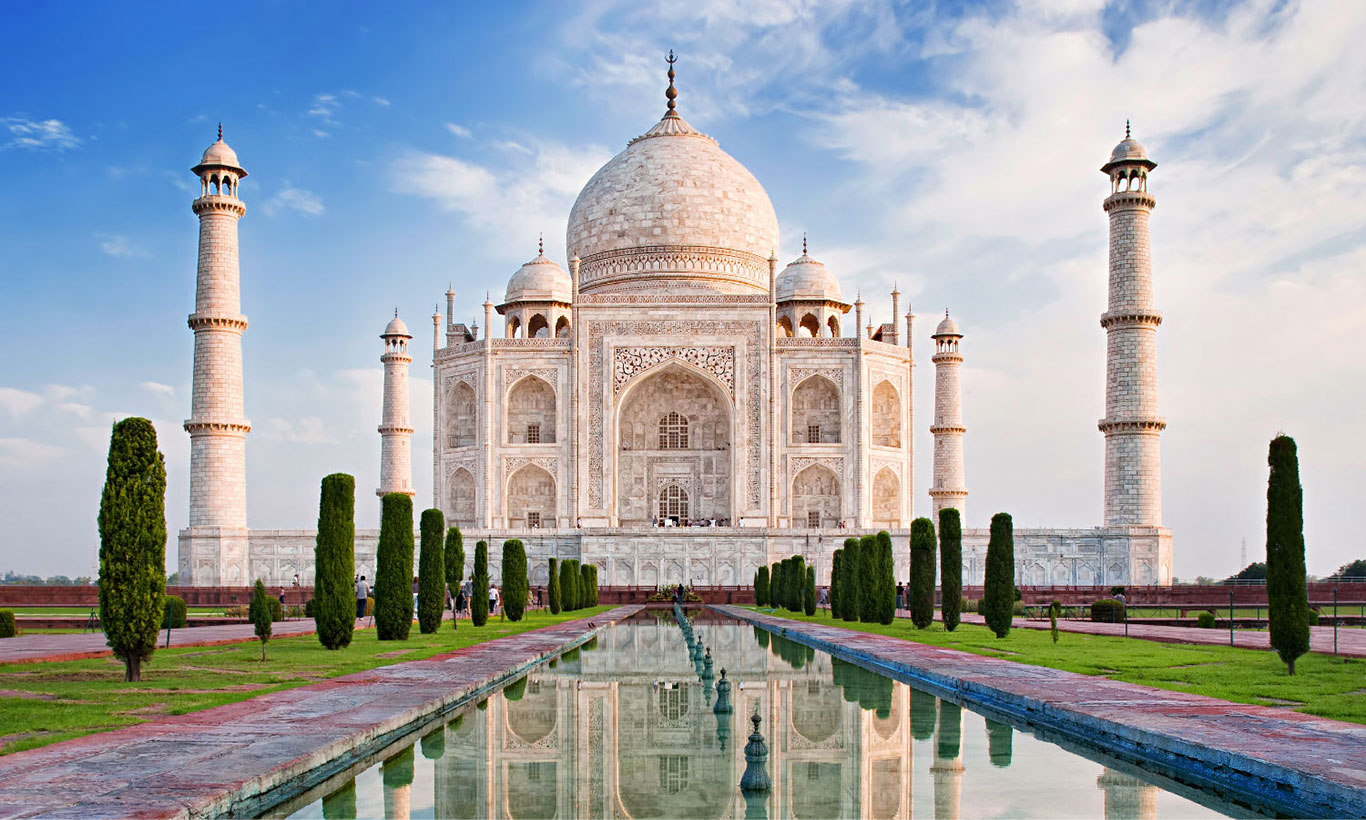 Agra is a major tourist destination in North India because of its many Mughal-era buildings, most notably the Taj Mahal, Agra Fort and Fatehpur Sikri, all three of which are UNESCO World Heritage Sites. The tourist places in Agra speaks volume about the rich culture and heritage of Agra.
The city is known for its historic sites, architecture, and ambiance of being in the Mughal era. Agra is also included in the Golden Triangle circle with Delhi and Jaipur and hence people travelling to the north, usually visit these three cities together.
The city is not only important to the Mughal dynasty but also has its mentions in the Mahabharata, which makes it a strategic location for both Hindus and Muslims in India and in the Indo Aryan Plains. Agra is, thus, full of legacies, history, period horizons and more.
Among the top tourist places in Agra is Taj Mahal, one of the Seven Wonders of the World, Taj Mahal is showpiece architecture of fine Mughal craftsmanship. It was built under the aegis of Shah Jahan as a memorial for his beloved wife Arjumand Bano Begum. Her body is enshrined in the tomb at the Taj Mahal.
Best Time To Visit: October to March
Key Attractions: Taj Mahal, Agra Fort, Itimad-ud-Daulah's Tomb, Mehtab Bagh, Agra Bear Rescue Center.
Nearest Airport: Agra Airport
Nearest Railway Station: Agra Railway Station
Mathura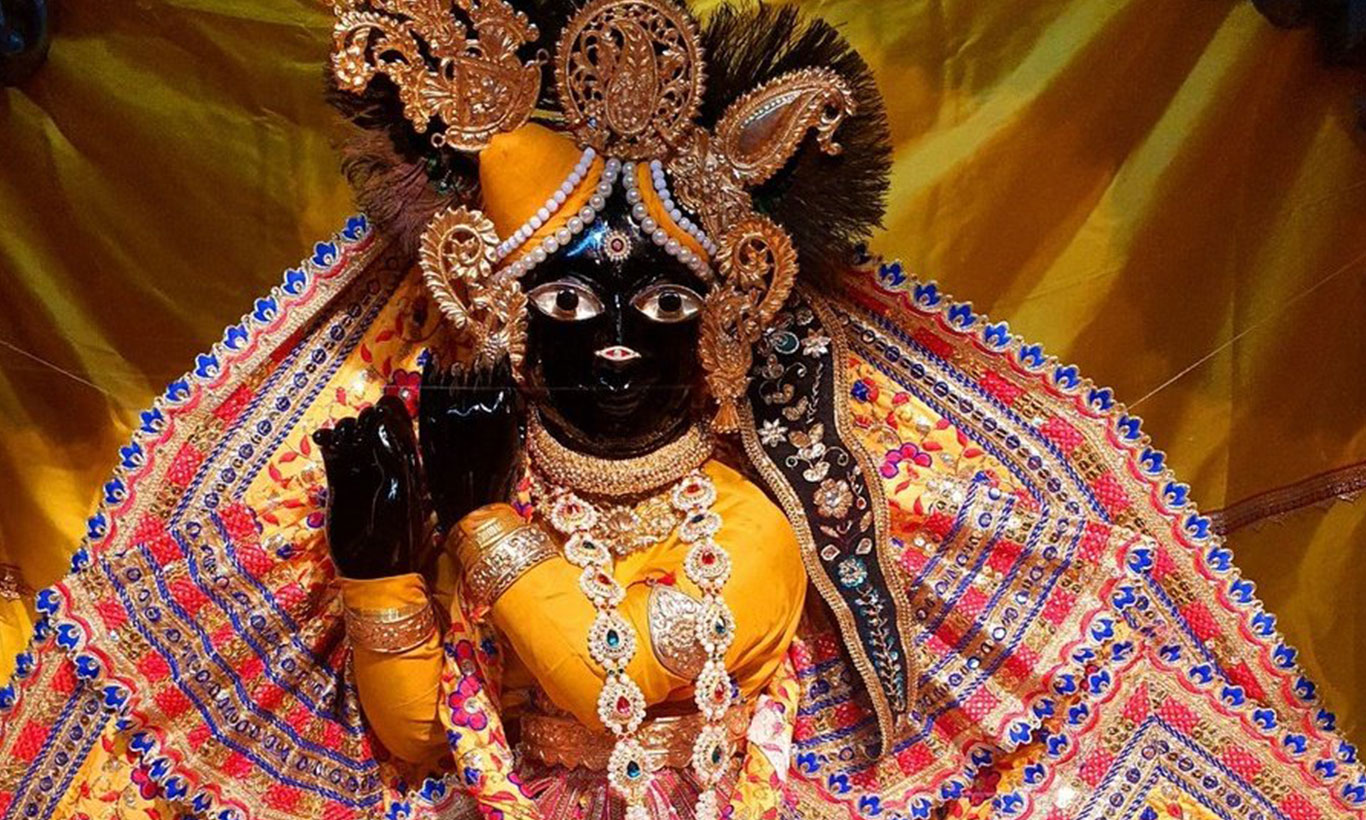 Amongst all the popular places to visit around Agra, Mathura is the holiest retreat and one of the tourist places near Agra within 100 kms. To attain peace and solemn happiness, a short tour to this spiritual abode is inevitable. This is one of the most divine places to visit near Agra to visit that will help to uplift your mind and soul spiritually. The charm of Krishna's birthplace and spectacular artwork and sculptures of the temples overwhelms each and every visitor here.
Best Time To Visit: October to March
Key Attractions: Krishna Janma Bhoomi Mandir, Dwarkadhish Temple, Kusum Sarovar, Gita Mandir, Radha Kund, Kans Qila and Mathura Museum
Nearest Airport: Kheria airport
Nearest Railway Station: Mathura Cantt railway station
Vrindavan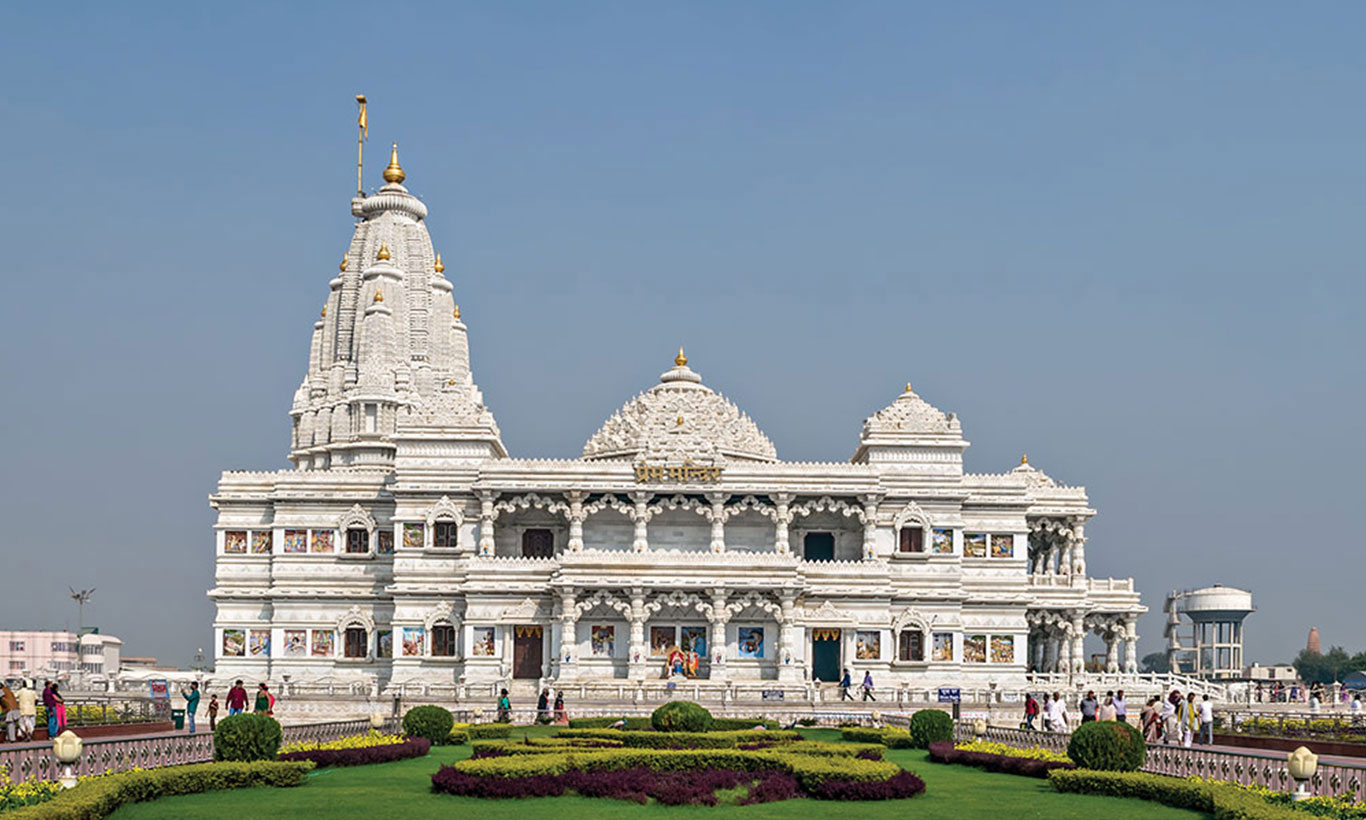 Vrindavan is a place that portrays divinity and love. Being the place where Krishna spent his childhood and romanced with Radha and her friends—Vrindavan is a famous name on the list of tourist places near Agra within 100 kms. This is a heritage town with splendid temples that depict the perfect blend of Gaudiya Vaishnavism and Hinduism, and is a perfect spot for those looking forward to weekend getaways from Agra.
Best Time To Visit: October to March
Key Attractions: ISKCON Temple, Banke Bihari Mandir, Radha Raman Temple, and Prem Mandir. Vrindavan is painted with many colours during auspicious festivals like Holi and Janmashtami
Nearest Airport: Kheria Airport
Nearest Railway Station: Vrindavan railway station
Jaipur

The Jaipur city is one of the most vibrant places in North India which holds the age-old heritage of Rajput Kingdoms. This city was well planned and developed over the years since the 17th century AD. Often known as the "Pink city", this place forms a Golden Triangle alongwith Agra and Delhi. Surrounded by the old walls and gates, the city is adorned by the drawings with a backdrop of surreal pink hue.
Best Time To Visit: November-March
Key Attractions: Hawa Mahal, Amer Fort, Nahargarh Fort, City Palace
Nearest Airport: Sanganer airport
Nearest Railway Station: Jaipur Junction railway station
Fatehpur Sikri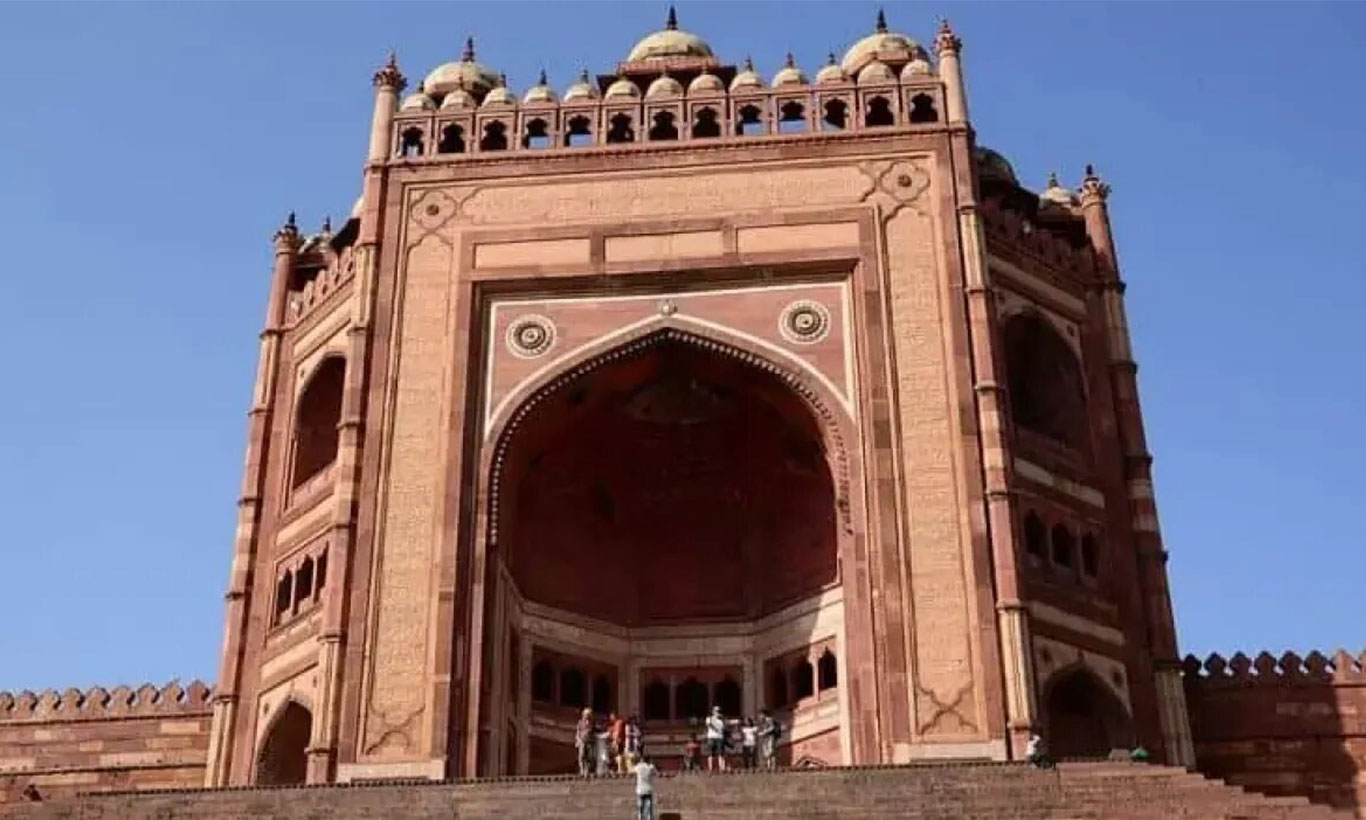 Built by Mughal emperor Akbar—Fatehpur Sikri is one of the World Heritage Sites. Fatehpur Sikri is the most beautiful and the nearest tourist place to Agra. A short drive of 30 minutes will take you to the erstwhile capital of The Mughal Empire. It is one of 2the most popular and spectacular tourist places near Agra within 50 kms featuring beautiful palaces, temples, gardens, and minarets. Buland Darwaza—the gigantic gateway, splendid 5-story Paanch Mahal (a shelter for royal women), and the fascinating Salim Chisti Darga enhance the charisma and beauty of Fatehpur Sikri that serves as one of the best weekend getaways from Agra. If you are planning to visit during Ramadan months, enjoy the enthralling carnival organized on the ground in front of the dargah. The fair features stalls selling handicrafts and souvenirs, elephant and camel rides, and live performances of folk music and qawwali.
Best Time To Visit: October to March
Key Attractions: Buland Darwaza, Jodhabai Palace, Darga (Tomb) of Sheikh Salim Chisti, Jama Mashjid, Khwabagh, and Diwan-I-Khas
Nearest Airport: Kheria Airport
Nearest Railway Station: Fatehpur Sikri railway station
Bharatpur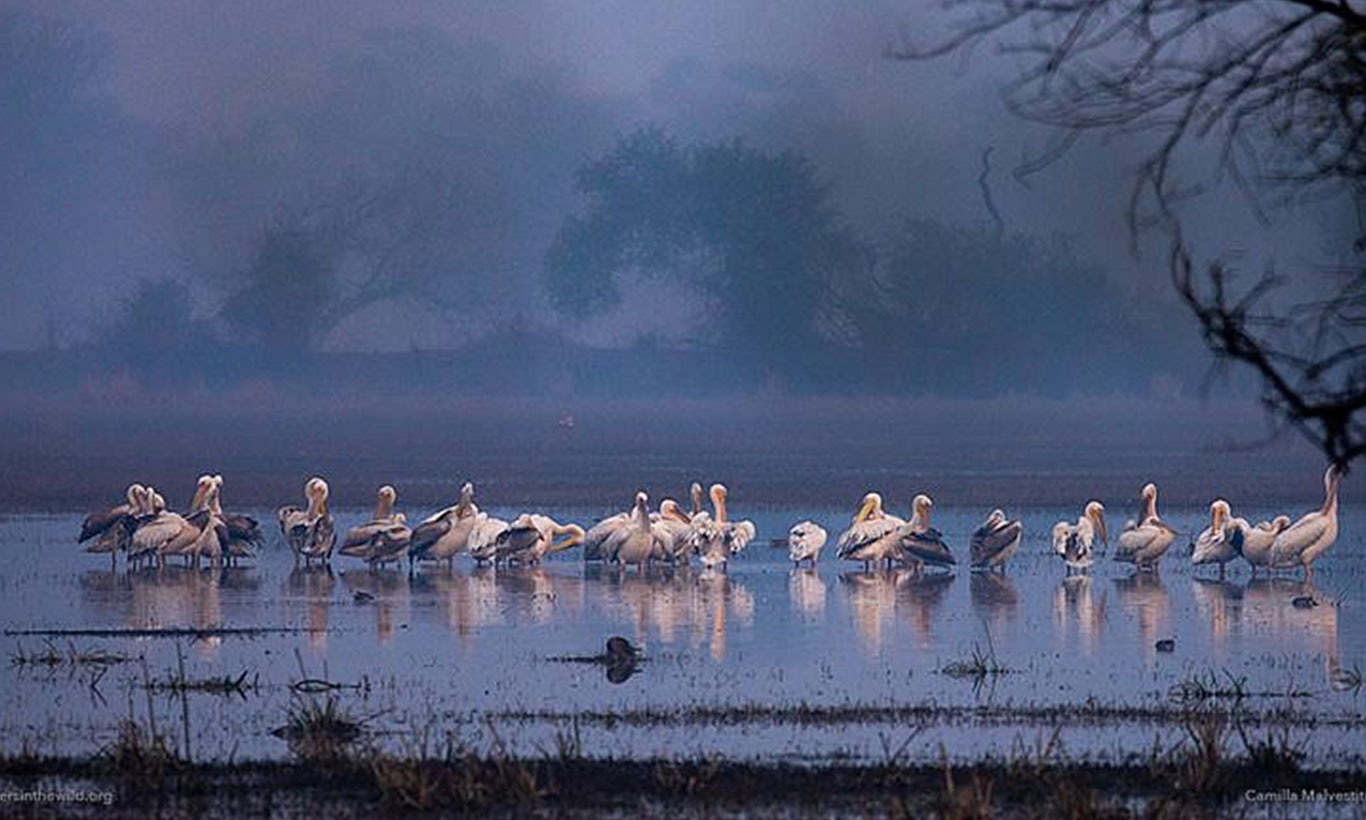 There may be many places to visit in Agra, but for nature lovers and bird enthusiasts, Bharatpur is one of the best places to visit near Agra. Bharatpur is mainly known for Keoladeo National Park or Bharatpur Bird Sanctuary. There are rare and endangered bird species, both local and migratory. This place is the hot favorite for photographers and ornithologists and makes for one of the great weekend getaways from Agra. Moreover, Bharatpur is one of the most peaceful tourist places to visit near Agra, particularly during the winter season. The bird sanctuary becomes musical and colorful when the bright and multi colored birds fly from places to Bharatpur
Best Time To Visit: August to November (Resident birds), October to March (Migratory Birds)
Key Attractions: Apart from bird sanctuary, Deeg Water Palace, Ganga Temple, Keoladeo Shiva Temple, and Government Museum are the major attractions here
Nearest Airport: Agra Airport
Nearest Railway Station: Bharatpur railway station